Disclaimer: Although I am dedicated to providing quality weather information on this web site, I cannot guarantee its accuracy or timeliness. My weather predictions are based on my own interpretations of the meteorological data to which I have access, and should not be confused with official forecasts provided by the Meteorological Service of Canada. The user hereby assumes all risks associated with the use of information on stormpost.com.

Copyright (c) 2016
Rodney Barney



To learn more about Labrador, check out these great web sites:

- www.combinedcouncils.ca
- www.labradorcoastaldrive.com
- www.southernlabrador.ca

Climate...

The Southeast Labrador Coast, Labrador Straits, and Quebec Lower North Shore lie in a climate zone that features some of the most changeable weather in Canada. Warm and sunny summer afternoons can quickly be chilled by fog and mist just by a switch in the wind. Winter mornings may start out calm and clear only to see a blizzard by afternoon and then perhaps a soaking rain by night as a major weather system moves up the Atlantic Coast. Whatever the time of year, rarely does the weather go unchanged for a very long period of time.

Weather systems

Being located in the northeastern part of North America, the region is frequented by storm systems (large areas of low atmospheric pressure) which travel across the continent in a more-or-less west-to-east pattern. In between these disturbances we usually find areas of high atmospheric pressure, which generally bring fair conditions. It is the motion of these systems that play the main role in determining what type of weather you will see on a given day.

Winds circulate around low pressure systems in a counter-clockwise fashion. This means that if the center of a storm passes to your south, you would likely experience northeasterly winds, which would shift to a northwesterly direction as the storm moves away. The area on the north-side a low pressure system is said to be in the storm's "cold sector", and in the winter months will typically feature snow as the precipitation-type. In summer it would most like bring a steady, cold rain.

If on the other hand the storm-center were to be passing to your north, you would be more likely to see southeasterly winds, which would shift to southwesterlies as the low passes. This is called the "warm sector" of the storm and usually any precipitation that falls here would be in the form of rain, be it winter or summer. However, it is common for an area of dry air to intrude into this part of the weather system, which can mean a break in the weather, and may even feature a period of sunny skies if the conditions are right. This area is known as a "dry slot".

Separating the cold and warm sectors of storms are what we call fronts. Warm fronts are found ahead of low pressure systems, usually in the zone where winds shift from northeasterly to southeasterly. Often the heaviest precipitation will be found just to north of the warm front.

Cold fronts trail behind low pressure systems, often found in the zone where winds shift from south or southwesterly to west or northwesterly. Precipitation associated with cold fronts is generally not of a continuous nature, but rather occurs in the form of showers or flurries. Many of the summertime thunderstorms we see in the region are associated with the passage of cold fronts.

Winds circulate around high pressure systems in a clockwise manner, and generally weaken toward its center. When a high is centered to the west, you will usually see north or northwesterly winds with mainly dry and cool conditions. Once a high moves off to east, southerly and southwesterly winds develop and bring warmer air. In summer, it is common to have a large area of high pressure anchored to the south of Newfoundland. This results in a southwesterly flow that can bring warm and humid air from the tropics into Quebec and Labrador. However, where this air blows over cold waters, the moisture will often condense out and form fog. This is a very frequent occurrence over the Gulf of St. Lawrence, and these fog banks can enshroud the Quebec Lower North Shore and Labrador Straits for days when many other areas are basking in sunshine and warmth.

Seasons

The first snows of the winter-season usually arrive sometime in October, although subsequent mild intervals will usually cause the melting of many of the early snowfalls, and it can be well into November or even December before a permanent winter snow-pack forms. However, between New Year's Day and St. Patrick's Day, most storm-centers track to the south of region, which keeps the area in cold sector. During this time thaws are relatively uncommon and the snowpack tends to grow to considerable depths as blizzards become more frequent. The region sees about 480 centimetres of snow in an average year, although this can vary a lot from year-to-year, and has been known to exceed 600 centimetres. Of course, this is referring the entire season's snowfall, which counts everything that falls from October to June. A lot of early and late-season snow melts, and there is a certain amount of compacting and melting that can occur even in mid-winter. The average depth of snow on the ground at the peak of the winter season is normally around 150 centimetres. However, due to drifting, some exposed barren lands will rarely see more than 20 or 30 centimetres accumulate, while other areas will feature tremendous snow drifts of 12 or more metres high. Temperatures are highly variable from day-to-day in winter, with the average daytime high in January being near -7°C and with average overnight lows near -18°C. Temperatures will dip as low as -30°C about once or twice during most winters.

As the days grow longer, temperatures usually start making regular visits above the freezing mark beginning in late-March or early-April. Storm systems also start taking a more northerly track during this time of the year, meaning the area gets into the warm sector more often, where rain is more frequent. However, with such a large amount of snow to melt, it typically takes several weeks for it to all disappear. Usually it is not until early-May that the ground is completely bare near sea-level, and it can be well into June before the snow is gone from the hills, with some patches in shady locations surviving even much longer than that.

As temperatures continue to warm through May and June, the ground thaws, and vegetation begins to grow. Grass usually starts to turn green by the end of May, with wildflowers making their appearance during June. Deciduous trees typically leaf-out around the middle part of June.

Despite the strong sunshine during June and July, the ocean is very slow to warmup due to the cold Labrador Current, which flows southward from between Baffin Island and Greenland. Icebergs are commonly seen just offshore well into the summer. Anytime the wind blows off this water, chilled air surges in over the land, and will often be accompanied by fog. The average daytime high in early-August, which is the peak of the summer season, is about 16°C at Blanc-Sablon and Point Amour, 19°C at Forteau and L'Anse au Loup, and 22°C at Port Hope Simpson and Charlottetown. From day-to-day these temperatures can vary considerably depending on wind direction, cloud cover, and the type of air mass. The hottest weather is usually found in the Lodge Bay to Norman Bay region, where highs in the thirties are typically experienced three or four times each summer, and temperatures have been known to exceed 35°C on the odd occasion in some communities. However, along the Labrador Straits and Quebec Lower North Shore, temperatures almost never reach the 30°C mark, and usually only get above the mid-twenties about one or twice per year. A rather unusual setup is required for an exceptionally warm day to occur in the St. Augustine River to Red Bay area, in that winds have to remain offshore, generally from a northwesterly direction, but this type of wind usually brings cool air that had its origins in the Arctic. However, once in a while, very warm air will travel from the United States into north-central Quebec, and then turn southeastward towards the Lower North Shore and the Straits, maintaining its warmth.

The first frost across the region usually occurs in early-September as the nights start getting longer, which can allow dramatic temperature drops under clear skies and light winds. Leaves generally start changing colours around mid-September and tend to reach their peak by Thanksgiving, in early October. Another sign of the change of seasons is that winds generally get stronger as fall approaches, as low pressure systems grow deeper and high pressure cells become stronger. It is not long then until the first snowflakes fly and the region sets in for another winter.

- written by Rodney Barney.
FORTEAU BAY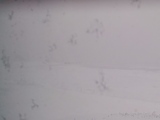 L'ANSE AU LOUP
CHATEAU POND
MARY'S HARBOUR
CARTWRIGHT JCT
CROOK'S LAKE