Stormpost Photo Collection


Disclaimer: Although I am dedicated to providing quality weather information on this web site, I cannot guarantee its accuracy or timeliness. My weather predictions are based on my own interpretations of the meteorological data to which I have access, and should not be confused with official forecasts provided by the Meteorological Service of Canada. The user hereby assumes all risks associated with the use of information on stormpost.com.

Copyright (c) 2016
Rodney Barney



To learn more about Labrador, check out these great web sites:

- www.combinedcouncils.ca
- www.labradorcoastaldrive.com
- www.southernlabrador.ca

Stormpost Photo Collection

Here you will find a sampling of my photos depicting the scenery of Southeast Labrador Coast, Labrador Straits, and Quebec Lower North Shore. I've also included some guest photo shots.

Just select an area from the list below to view the photos. You can click on any photo to obtain an enlargement.
Guest Photos
Ice and Snow Storm
Photos of a May freezing rain and snow storm, Victoria Day long weekend, 2007.
Trans Labrador Highway
Jamie Pye provided some photos of snowclearing operations on the Trans Labrador Highway, to the north of the Red Bay Depot. Taken on 02-April-2004.
Southeastern Labrador
A variety of photos from north of Red Bay to Cartwright. Provided by Ewart Linstead.
Trans Labrador Highway.
Scenes along the Trans Labrador Highway between Red Bay and Lodge Bay. Provided by Lyle Smith.
St. Lewis Snowfall
Scenes from St. Lewis taken by Carl Bradley after the Feb 26-28, 2004 blizzard.
Labrador Flag
Provided by Joe O'Dell, former Capstan Island resident now living in Torbay, Newfoundland.
Trans Labrador Highway - May 2001
Carl Bradley provided these scenes of the tremendous amount of snow along Trans Labrador Highway between Red Bay and Lodge Bay, taken 01-May-2001.
Blizzards of 1995
One of the snowiest months in recent memory along the Labrador Straits was March 1995. One storm early in the month lasted for more than two days and brought over 100 centimetres of snow. Subsequent storms that month brought the monthly total to over 200 centimetres. Ewart Linstead shares these photos of that stormy month.
FORTEAU BAY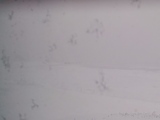 L'ANSE AU LOUP
CHATEAU POND
MARY'S HARBOUR
CARTWRIGHT JCT
CROOK'S LAKE